Welcome to JOLLYGERMAN.COM
Serving the World Proudly since 1996!




Included on this page are pictures and links regarding the April 15th, 2008 Crowley County (Ordway) fire. On this particular day, the winds were gusting as high as 50 mph and the National Weather Service had issued a Red Flag Warning as dewpoints were low and the relative humidity was at 8%. These images are entirely untouched/unedited and may load slowly on less than broadband connections. All photographs and videos are copyright Pamela Pfalzbot, 2008.

Video Links: (please use map below for point of reference)
ordwayco_fire_041508001.MPG
Pam took this video while we were driving east on Highway 96. This was taken before the fire had spread to the outskirts of Ordway. TV station received a copy of this video as well as some of the still pictures and aired it repeatedly on KRDO throughout the night, mentioning Pam as the "photographer". I should mention that when we turned around and went back west on 96, we drove through nearly 1/2 mile of smoke and fire on both sides of the road. This was the same span of road which includes the bridge that burned out and killed two Olney Springs firefighters. The time that lapsed between us turning around from east to west was only at most, 2 minutes. That should give a good idea of how rapid this fire spread! The video was taken from point X to point XX on the map below.

ordwayco_fire_041508002.MPG
This is a very short video taken from point XX on the map below looking back down highway 96 towards point X. We drove back from point XX to point X through the smoke and fire. I'll not do that again!

ordwayco_fire_041508006.MPG
This video was taken from point X looking east down highway 96 - you can see the emergency vehicles returning to let us know that the bridge had collapsed. 96 is still closed as of April 16th. Pam turns the camera towards the north and you can see a brief glimpse of me helping to direct traffic. A reverse 911 call had gone out and parents, concerned for their childrens safety were eager to pick their children up from school in Ordway. We diverted them north 3 roads to H and about 20 minutes later, the evacuation order to Sugar City was ordered and the entire town was evacuated.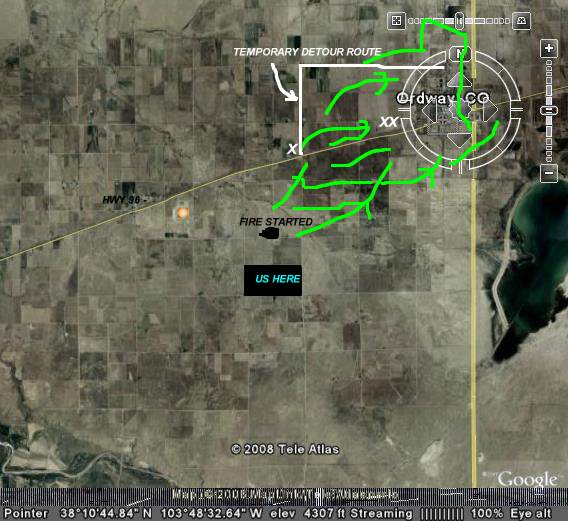 The thing with disasters is that unless you actually know what's going on, you never really know what's going on! During the whole time we helped direct traffic and Pam helped disperse water to firefighters and emergency personnel. the stories and rumors ran as wild as the fire itself. At one point we were lead to believe that the entire town of Ordway was engulfed. The days proceeding the fire showed otherwise. Many of the core businesses were still standing and it was business as usual. However, many homes were destroyed and livestock losses were tremendous. Thankfully the town united and stood its ground in the face of this fire and as a result, the town remains. The outpouring of support from neighboring communities was awesome.
Thankfully our own farm was spared as we are located due south from where the fire started. The winds carried the fire away from us, but for many days afterwards, when the winds blow our direction, it is a reminder of that awful day in April. We won't ever forget tax day 2008. And one other thing is certain; no one will be burning again soon without proper authorization or a close eye on what they are doing!
RETURN TO THE PREVIOUS PAGE
Email: gary@jollygerman.com
Telephone: (719) 468-3943***
Designed & Hosted by: JOLLY GERMAN
©1996-2018 JOLLYGERMAN.COM
All written, audio, video and graphic material contained within this site, except where otherwise noted, is Copyrighted ©1996-2014. This includes all trademarks, logos and photos belonging to The Jolly German®. Pfalzbot®, GoatWorld®, Goat911®, or Goat411®. Some content may also be the property of contributors, in which case their material is also protected by applicable copyright laws and this copyright policy. No material may be linked directly to or reproduced in any form without written permission from us. If you would like to reprint something from our site, simply send us an email to request permission to do so.


©Gary Pfalzbot, Colorado, USA